Welcome to the most sought after neighborhood in Chatham Borough, NJ
– The Washington Section –

You know why people want to live in Chatham Borough – a quaint setting, with a small-town atmosphere, top tier schools, and the easy commute to NYC. That and it was ranked as one of the best towns to live in by CNN, Money Magazine, & NJMonthly to name a few. While Chatham is about 2-1/2 square miles, with about 9000 people living within its borders, The Washington Section is about a 1/3 of a square mile.
Roughly speaking, the Washington Section is bordered by Watchung Ave, Lafayette Ave, Longwood Ave, and Fairmount Ave.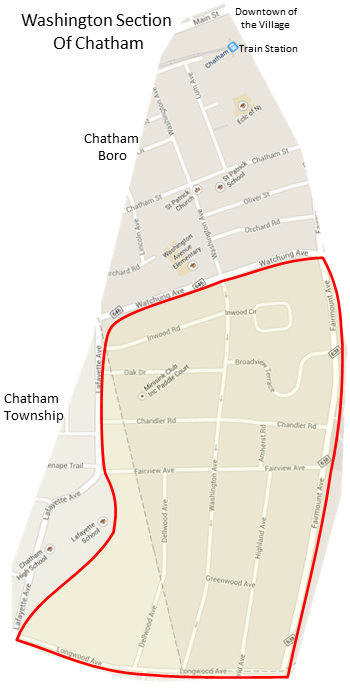 The reason why people pay a premium for the homes on those bucolic, tree-lined streets is that the yards are a little bit larger and homes are a bit bigger than most in Chatham Boro. Fairmount Ave is home to the stunning original mansions of the area, with sweeping views of the neighboring county. Some of the period homes date back to the late 1800s and then some of the homes are brand new. That and you are still very near a charming downtown village, the NJ Midtown Direct train to NY, and all the schools:
Nearby elementary schools are Washington Avenue school Lafayette School, and Southern Blvd Elementary.
Chatham Middle school on Main St
Chatham High School is next to the Lafayette school,
The Midtown Direct train is just off Washington Ave
For more information Call or Email Trish
908-376-6585
Search for your Home | What's my Home Worth?
©2017 Patrizia Giassa All information deemed reliable, but not guaranteed, subject to errors & omissions. Sales Data from Garden State MLS.